Streamline the ordering process and "wow" customers
with Harbortouch Tableside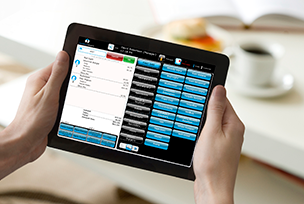 Harbortouch Tableside enables restaurant servers to input customer orders directly from the table via an Apple iPad®. A dedicated iPad® app mirrors the interface of the actual POS software. The orders are relayed directly to the kitchen or bar for a dramatic increase in efficiency. This feature provides many benefits for both the restaurant and customers by streamlining the ordering process and keeping customers satisfied.
Significant improvement to order efficiency
Increased speed of service for happier customers
Quicker table turns produce additional revenue
Eliminate the redundancies associated with hand-writing orders
More accurate ordering
Unique and impressive dining experience for restaurant patrons
*Merchants must provide their own Apple iPad® for Harbortouch Tableside functionality.